Contributing Experts
Dana Fort, DDS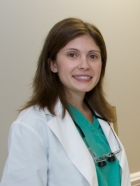 Visit:
Dr. Fort is a general dentist who maintains a private practice in Chicago and Hinsdale, Illinois.
Dr. Fort attended Northwestern University where she received her BA, and attended the Boston University School of Public Health masters program in epidemiology. She earned her DDS from The University of Illinois College of Dentistry.
Her previous research interests include gene deletion strategies of the virulence factors of S. mutans, and dental unit water line microbiology. Dr. Fort is recipient of the AADR/Unilever Hatton Award, a New Dentist Network Leader for the Illinois State Dental Society, and a member of the Chicago Dental Society and American Dental Association.
Last Updated:
May 31, 2013